Sponsored by: The Torat Emet website is sponsored in memory of Marcie Gilbert through the generosity of Larry Gilbert
The Torat Emet website is sponsored in memory of Marcie Gilbert through the generosity of Larry Gilbert
Weekly Emes August 23 - August 29, 2019
08/22/2019 05:02:52 PM
August 23 - August 29, 2019     Av 22 - Av 28, 5779
Shalom!

Welcome to Congregation Torat Emet's weekly Emes, all the news and happenings at the shul and around the community. Enjoy and Shabbat Shalom!
Office Hours

Monday-Thursday
9:00 AM - 4:00 PM

Friday
9:00 AM - 1:00 PM
Shabbat Schedule

Friday
6:00 AM      Daf Yomi
7:00 AM      Shacharit
6:30 PM      Mincha/Maariv
6:55 PM      Candle Lighting


Shabbat
9:00 AM      Shacharit
7:05 PM      Pre-Mincha Shiur
7:40 PM      Mincha
Daf Yomi Siyyum
8:59 PM      Shabbat Ends
Weekday Schedule

Daf Yomi
7:00 AM      Sunday
6:00 AM      Monday-Friday
Shacharit
8:00 AM      Sunday
7:00 AM      Monday-Friday
Mincha/Maariv
6:30 PM      Sunday-Thursday
6:20 PM      Friday
Class Schedule

Shabbat Torah Table Talk
with Rabbi Neuman
Saturday at 10:00 PM
The Priestly Prophet: Chariots of Fire with Rabbi Neuman
Sunday monrning at 8:50 AM


Calendar Corner

August 30th
MSG Oneg Shabbat at the Eckmann Home (Teens Welcome)
August 31st & September 1st
Rosh Chodesh Elul
September 6th
High Street First Friday
September 7th
Teen MMM&M&M
September 11th
Table Top Security Training
September 14th
Community Kiddush in honor of Rabbi Epstein's Special Birthday (shh! He is in Israel and doesn't know!)
September 15th
Community Team Up with Ahavas Sholom: Breakfast with Rabbi David Bashevkin at Cafe 4300
September 15th
Raise a Glass to the Kalefs!
Refuah Shleyma to

to Jiri Klinger, Mara Ryan, David Schottenstein's mother, Jeanette, and Alan Shatz's father, Jack
Kiddush

Kiddush (dairy) this week is sponsored by Joni and David Schottenstein in honor of the marriage of their daughter, Gabriela, to Jared Benjamin

Seudah Shlisheet this week is sponsored by the shul 

Kiddush Captain this week is Marge Ciranni. Kiddush Team members are Ari Bandler, Wendy Horwitz, and Cig & Skip Parks

If you would like to sponsor a Kiddush or Seudah Shlisheet, please click here
Ushers
Ushers this week are Terri & Rick Barnett, Janice Epstein, and David Goldmeier
Gabbaim
Gabbai Rishon: Marc Neiwirth              Gabbai Sheni: David Goldmeier
Donations

KIDDUSH FUND
in honor of
Gabriela Schottenstein getting married from Yael & Perry Vernikoff 
wishing a refuah shleymah for
David Schottenstein's mother from Yael & Perry Vernikoff 

LAURI PODELL ZOFAN MEMORIAL YOUTH FUND 
wishing a mazel tov to
to Marilyn and Stuart Cole, and Rena and Adam Gardin, on the birth of their daughter and granddaughter from Ely Zofan 

RABBI'S FUND
in honor of
Isaac Myers' Bar Mitzvah from Laurie Alexander,
the engagement of granddaughter, Rivka Spector, to Moshe Sigala from Laurie Alexander 
wishing a refuah shleymah for
grandson, Yehuda Meir Spector from Laurie Alexander 

SYNAGOGUE FUND
in honor of
Marilyn and Stuart Cole on the birth of a granddaughter from Sarah Frank 
in memory of
Marilyn Greenbaum from Terry & David Goldmeier 
Happy Birthday this week to
Rochell Weisfogel, Murray Weinberg, Fred Needham, Mara Ryan, Jacob Appelbaum, Noah Appelbaum, Avrom Epstein, Robert Margolis, Eliyahu Altschuler, Joshua Greenberg, Terry Mitzman, Andy Bernstein, and Marcia Ungar
Yahrzeits for this week are
Zalman Kominiar, grandfather of Sarah Blumenfeld
Bessie Levy, mother of Elliot Levy
Harry Grossman, uncle of Neal Grossman
Marcia Passell, sister of Michael Levison
Gertrude Weiss, aunt of Marilyn Cole
Saul Schottenstein, husband of Sonia Schottenstein; uncle of Jay Schottenstein; great uncle of Joey Schottenstein, Jonathan Schottenstein, Jeffrey Schottenstein
Charlie Perel, father of Mel Perel
David Fettman, father of Betsey Lane; grandfather of Danielle Lane
May Blumenfeld, mother of Theodore Blumenfeld; grandmother of Michael Blumenfeld
Jonas Berkowitz, grandfather of Anne Neiwirth
Calvin Schottenstein, father of David Schottenstein
Margaret Wroe, mother of Victoria Cantor
William Slabodnick, grandfather of Michael Slabodnick
_________________________________________________________
Memorial Book
Yizkor memorial booklet entries are now being revised for the coming year. Renewal forms were sent in the mail to those who have had previous entries.
 
The deadline is September 6. 

If you wish to renew your entry click  here, or indicate same by phone or form or email by September 6. 
PLEASE NOTE: ENTRIES WILL NOT AUTOMATICALLY RENEW. 

If you wish to submit a new entry click here. Forms are also available
here, in the shul office and on the promo table in the social hall.
_________________________________________________________
Table Top Security Training
We are having our first Table Top Security Training on


Wednesday, September 11, 2019
7:30pm at the shul.

We encourage all of our congregants to attend. If you are unable to make it to this one, we will be having another one in early 2020.
_________________________________________________________
_________________________________________________________
_________________________________________________________
Meet the Members!
Lisa and David Eckmann
interviewed by Rebecca Mayerhoff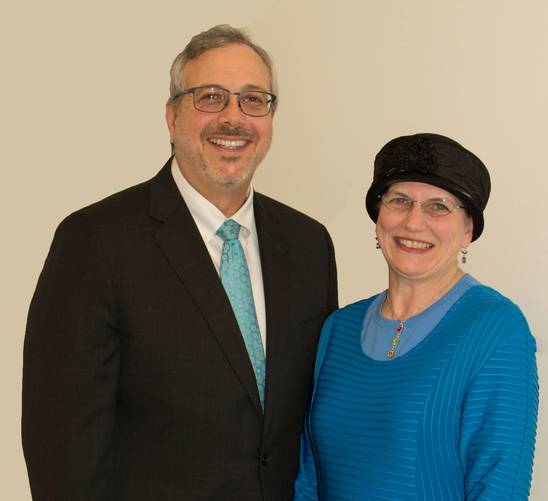 Torat Emet:  tell us about yourself- your job, where you're from and your child(ren) (and pets!)
The Eckmanns: We just moved here after living in Wynnewood, PA, a Philadelphia suburb for the last 23 years. We're both originally from Riverside, CA. We lived in Chicago, where our 3 sons were born, before moving to Wynnewood. The boys are all married. Josh and his family live in Brooklyn. Uri and his family live in Bergenfield, NJ. Many people here know our middle son Yoni and his wife Michal. Yoni is rather tall and enjoys basketball, even coaching the CTA boy's team. As empty nesters we look forward to having our 4 grandchildren visit us from the East Coast. Our 20 year old cat and our Great Dane keep the household active. We're both engineers by training, but Lisa left engineering long ago to run a charity in Philadelphia. David was recruited to OSU to be the director of its new Center for Medical and Engineering Innovation. He's an anesthesiologist and a biomedical engineer.

TE:  what attracted you to the Main Street synagogue?  What do you love about this community? 
The Eckmanns: We had been here before for Shabbos and Rosh Hashanah. We found the community to be warm and engaging. The Synagogue is a beautiful place for davening and we felt like we were at home right away.

TE:  what are your interests and hobbies? You can also tell us your favorite books, movies or music. 
The Eckmanns: Lisa enjoys reading, learning Chumash with her Philly chevrusas of 20 years, cooking, and Zumba. David is a vocalist and cellist who enjoys almost all types of music, especially nusach and chazzanus. He also is an amateur photographer, an aging softball enthusiast and a single malt Scotch aficionado. We both like doing jigsaw puzzles, travel, grandkids and a good wine.
 
TE: Tell us something about yourself that most people don't know
The Eckmanns: Lisa is an expert organizer. David is an Eagle Scout (so are all three of our sons).
 
TE: Your favorite Graeter's ice cream flavor :)
The Eckmanns: Lisa loves the Raspberry Chocolate Chip. David is secretly planning to get locked in Graeter's overnight to figure it out.
 
TE: If you have a favorite quote you would like to express or thoughts to share with the community, please include that here. 
The Eckmanns: David: "When I was a boy of fourteen, my father was so ignorant I could hardly stand to have the old man around. But when I got to be twenty-one, I was astonished at how much he had learned in seven years."--Mark Twain.
The High Street Community is a project sponsored by Jonathan and Nicole Schottenstein, and led by Rabbi Ari Neuman, for young professionals looking for meaningful Jewish experiences and fun ways to meet other young Jewish adults.  The program's goal is to help its participants learn about Judaism in a way that is exciting, enjoyable, open, and welcoming to others no matter their background.
For more information, or to sign up for HSC events and e-mails, please contact Rabbi Neuman at rabbineuman@toratemet.org
or call the office at 614-238-6778.
Cafe 4300 is now open to the Jewish Community for lunch.
Patrons must sign in at the desk upon entering the building.
Buckeye Kosher Korner

For a recently updated list of Kosher symbols approved by Buckeye Kosher click here

Buckeye Kosher works only with approved caterers and commissaries. Please check their website buckeyekosher.org

Follow Buckeye Kosher (@BuckeyeKosher) on Twitter for the latest kashrus updates

www.buckeyekosher.org or info@buckeyekosher.org
Shabbat Table Discussions
To view or download Yeshiva University's latest Shabbat Table Discussions click  here ​​​​​​​
{{shulcloud_footer_left}}
{{shulcloud_footer_right}}
Thu, June 8 2023
19 Sivan 5783
Today's Calendar
Shacharit

: 7:00am
Mincha/Maariv

: 7:05pm
Exec Board Meeting
: 7:30pm
Contemporary Halacha

: 8:30pm
---
Friday Night
Mincha/Maariv

: 7:10pm
Early Candlelighting

: 7:30pm
Shabbat Day
Graduates Kiddush
Shacharit

: 9:00am
Pre-Mincha Shiur

: 8:00pm
Mincha

: 8:30pm
Shabbat Ends

: 9:50pm
Upcoming Programs & Events
---
This week's Torah portion is

Parshat Beha'alotcha
Shabbat Mevarchim
View Calendar
Zmanim
Alot Hashachar
4:18am
Earliest Tallit
5:02am
Netz (Sunrise)
6:03am
Latest Shema
9:46am
Zman Tefillah
11:02am
Chatzot (Midday)
1:31pm
Mincha Gedola
2:08pm
Mincha Ketana
5:52pm
Plag HaMincha
7:25pm
Shkiah (Sunset)
8:59pm
Tzeit Hakochavim
9:48pm
More >>
Thu, June 8 2023 19 Sivan 5783