Sponsored by: The Torat Emet website is sponsored in memory of Marcie Gilbert through the generosity of Larry Gilbert
The Torat Emet website is sponsored in memory of Marcie Gilbert through the generosity of Larry Gilbert
Weekly Emes June 7 - June 13, 2019
06/06/2019 05:26:55 PM
June 7 - June 13, 2019     Sivan 4 - Sivan 10, 5779
Parashat Bamidbar & Shavuot
Shalom!

Welcome to Congregation Torat Emet's weekly Emes, all the news and happenings at the shul and around the community. Enjoy and Shabbat Shalom!
Office Hours
Monday-Shavuot 2nd Day
CLOSED

Tuesday-Thursday
9:00 AM - 4:00 PM

Friday
9:00 AM - 1:00 PM
Shabbat Schedule

Friday
6:00 AM      Daf Yomi
7:00 AM      Shacharit
7:00 PM      Mincha/Maariv
7:25 PM      Candle Lighting


Shabbat & Erev Shavuot
9:00 AM      Shacharit
Seudah Shlisheet at home
8:45 PM      Mincha
Shiur by Stu Appelbaum
9:48 PM      Candle Lighting,
                    NOT BEFORE
9:50 PM      Maariv
Shavuot Seudah
10:30 PM    Tikkun Leil Shavuot
12:00 AM    Teen Programming Begins
Weekday Schedule


Sunday-Shavuot 1st Day
5:30 AM      Haskama Minyan
9:30 AM      Shacharit
8:30 PM      Mincha
Kumzitz with Chazan Eli Beer
9:48 PM      Candle Lighting,
                    NOT BEFORE
9:50 PM      Maariv
Monday
9:00 AM      Shacharit
10:30 AM    Children's Programming Begins
10:30 AM      Yizkor & Sermon by Rabbi Zack
Shavuot BBQ Luncheon
1:30 PM      Women's Mincha with Reading of Megillat Ruth
1:30 PM      Daytime Learning Begins
1:30 PM      Youth activities Begin
8:45 PM      Mincha
Shiur by Rabbi Howard Zack
9:50 PM      Yom Tov Ends
Tuesday-Friday
6:00 AM      Daf Yomi
7:00 AM      Shacharit
7:05 PM      Mincha/Maariv
Calendar Corner

June 8th
Ice Cream Kiddush in Honor of Graduates
June 8th-10th
Shavuot
June 22nd
Community Kiddush honoring the families of Rachel Weiss-Berger & Rabbi Ben Berger, Adina Bitton & Rabbi Michael Emerson, and Chaya Aviva & Rabbi Zvi Katz
June 26th
The Main Event 2019: An Evening with Dudu Fisher
We are proud to extend a heartfelt Mazel Tov to all of the
graduates of the Torat Emet family!
 
College & Post Secondary Education
Sabrina Ebner
Joshua Shenkar
 
High School
Zoe Blumenfeld    Gali Makias        
Allie Bushong    Shmuel Metz  
           Orli Hartstein    Avigayil Rosenberg  
        Addie Horwitz    Simon Rosenberg  
    ​​​​​​​Sigal Import    Sophie Schiff  
               Neil Kalef    Leo Schottenstein  
Jordan Koppes     Avery Weisman
 
8th Grade
Molly Binsky    Elizer Kohn  
Ruthie Blumberg    Kira Lessnick     
Philip Garvin    Aviel Metz   
                       Ariel Ilin    Yaakov Moshe Peltz  
Mojo Katz                    
  
Kindergarten
            Nili Berger    Moshe Neuman  
         Eden Buren    Danielle Safran  
        Ari Lefkovitz    Libi Slabodnick  
Jesse Lefkovitz    Zach Zofan     


Refuah Shleyma

to Jiri Klinger
Kiddush & Shavuot Seudot

Ice Cream Kiddush (dairy) this week is sponsored by:
    Jamie and Avi Bindell in honor of Ella and Ty graduating from the JCC
    Preschool
    Sarah and Michael Blumenfeld in honor of Zoe's graduation from Bexley
    High School
    Mille and Ted Blumenfeld in honor of Zoe Blumenfeld's graduation
    Agi and Jon Hartstein in honor of Orli's graduation from CTA High School
    Wendy Horwitz in honor of Addie's graduation from CTA High School
    Smadar and Steve Import in honor of Sigal's graduation from CTA High School
    Liz and Jeremy Kalef in honor of Neil's graduation from Bexley High School
    Barbara and Ray Kalef in honor of Neil's graduation from Bexley High School
    with honors
    Ayala and David Kohn in honor of Eliezer's graduationfrom CTA Middle School
    Michelle and Steve Lessnick in honor of Kira's granduation from CTA Middle
    School
    Rachel and Benjamin Metz in honor of Shmuel's graduation from CTA High
    School, and Aviel's graduation from CTA Middle School
    Miriam and Oded Shenkar in honor of Joshua's graduation from Law School
    and his award in Professional Ethics

Seudah Shlisheet at home this week

Shavuot Seudah (dairy) is sponsored by Sara and Alan Shatz in memory of parents, Miriam Cohn and Rubin Louis Karlsberg

Shavuot BBQ Luncheon (meat) is sponsored by the Torat Emet Scholar's Circle 

Susie and Stu Appelbaum        Michelle and Steve Lessnick
Monica and Joe Calabrese       Naomi Myers and Family
Marilyn and Stuart Cole            Linda Vlosky Zack and Rabbi Howard Zack
​​​​​​​Sarah Frank and Family

Kiddush Captain for Shabbat is Ilana Klamka. Kiddush Team members are Janice Epstein, Michelle Lessnick, Barbara Meluch, Eran Rosenberg, Sara & Alan Shatz, Anne Shulman, and Perry Vernikoff

Kiddush Captain for Shavuot Seudah is Joni Schottenstein. Kiddush Team members are Laurie Alexander, Esther & David Bernzweig, David Goldmeier, Barbara & Ray Kalef, and Liz Kalef

Kiddush Captain for Shavuot Luncheon is Marcia Epstein. Kiddush Team members are Meri Arno-King, Monica Calabrese, Peggy & Alan Katchen, and Betsey & Dani Lane

If you would like to sponsor a Kiddush or Seudah Shlisheet, please click here
Ushers
Ushers this week are Wendy Horwitz and Rick Zwelling
Gabbaim
Shabbat
Gabbai Rishon: Ari Berger                         Gabbai Sheni: Benjamin Metz
Shavuot Day 1
Gabbai Rishon: Marc Neiwirth                   Gabbai Sheni: David Goldmeier
Shavuot Day 2
Gabbai Rishon: David Schottenstein          Gabbai Sheni: Avrom Epstein
Donations

KIDDUSH FUND
in appreciation of
Perry Vernikoff from Janice & Rabbi Joel Epstein 
in honor of
The Hartstein Family from Rochell & David Weisfogel,
The Katz Family from Rochell & David Weisfogel,
Rabbi Ari Neuman from Susie & Stu Appelbaum 

PLAQUES FOR JEWISH WAR VETS
from Eileen & Stuart Weltz 
from Marcia & Avrom Epstein & Family 
from Roberta Rosenblum & David Mayer 
from Sara & Alan Shatz 
from Sarah Frank 

RABBI'S FUND
in honor of
Gabriela Schottenstein's engagement from Meri & Ed King 

SHAVUOT CHAZAN SPONSORS 
Stu and Susie Appelbaum,
Joanne Aubrey,
Terri & Rick Barnett,
Lara & Gary Blumberg,
Monica & Joe Calabrese,
Shelly & Al Dembe,
Cynthia Ebner,
Nicole & Mark Ebner,
Lynn & Joel Fisher,
Michelle & Steve Lessnick,
Sima Gellman & Fred Needham,
Lori & Jeff Polster,
Nancy & Ken Supowit,
Linda & Steve Szames,
Eileen & Stuart Weltz

SYNAGOGUE FUND
in appreciation of
Torat Emet from Eliana & Rabbi Pinchas Weinreich 
in appreciation of receiving an honor
from Cheryl & Jackie Jacobs,
from Harriet & Murray Weinberg 
in commemoration of the yahrzeit of
mother, Mollie Turetsky from Eileen & Stuart Weltz 
in memory of
grandmother and great grandmother, Lillian Clayman from Marcia & Avrom Epstein & Family,
grandmother and great grandmother, Rose Kohn from Marcia & Avrom Epstein & Family, 
father and grandfather, Dr. Bart Jacob Epstein from Marcia & Avrom Epstein & Family,
great grandmother and great great grandmother, Bertha Roth from Marcia & Avrom Epstein & Family 
Happy Birthday this week to
Yaakov Metz, Steve Shulman, Perry Vernikoff, Dorothy Salomons, Ron Reitman, Asher Reitman, Helene Lehv, Jay Schottenstein, Sheila Zwelling, Michal Elias-Bachrach, Marcia Epstein, and Victor Schmelzer
Yahrzeits for this week are
Stanley Mirvis, father of Bruce Mirvis
Rubin Karlsberg, father of Sara Shatz; grandfather of Aaron Shatz
Henry O. Slone, father of Sheila Zwelling
Ralph Appelbaum, father of Stuart Appelbaum
Max Dreifus, grandfather of Agnes Hartstein
Zvi Tyberg, father of Shifra Tyberg
Faiga Schuster, grandmother of Sonia Schottenstein
-------------------------------------------------------------------------------------------------------------
Structured Shabbat Program for children in
Kindergarten through 2nd grade
Thank you to the parents who stepped up to help us have a consistent
K-2nd grade group. The parent rotation will be on break during the summer months and will pick up again in August when the school year starts.

For any parents who are interested in joining the rotation for next year the commitment is only about 1 every 5 or 6 weeks and you are provided with all of the materials and instructions ahead of time. We are losing 3 of our 6 current volunteers and we are looking for  new volunteers to step up.
​​​​​​​
Thank you! 
-------------------------------------------------------------------------------------------------------------
-------------------------------------------------------------------------------------------------------------
                       Torah Challenge 2019
With Passover in the rearview mirror, and as we count up the days to Shavuot and the commemoration of receiving the Torah it is a time to reconnect with our holy texts as a community, as a family and as individuals. This year we are encouraging couples, parents and children, chevrusas or individuals to commit to learning a little extra in preparation for Shavuot.  

Here are three suggestions: 
The Book of Ruth with Dr. Yael Zeigler's commentary available here:  https://www.etzion.org.il/en/topics/megillat-rut

Ethics of our Fathers (for anyone who needs a text we can provide you with one.)

זריעה ובנין בחינוך or in English Planting and Building in Education by Rabbi Shlomo Wolbe. Rabbi Neuman will be offering a weekly class on this small but very meaningful sefer (timing TBD). For those looking to purchase the text see here -  https://www.feldheim.com/planting-and-building-in-education.html


Sign up here:  https://www.toratemet.org/form/torah-challenge.html
-------------------------------------------------------------------------------------------------------------
-------------------------------------------------------------------------------------------------------------
Shavuot at Torat Emet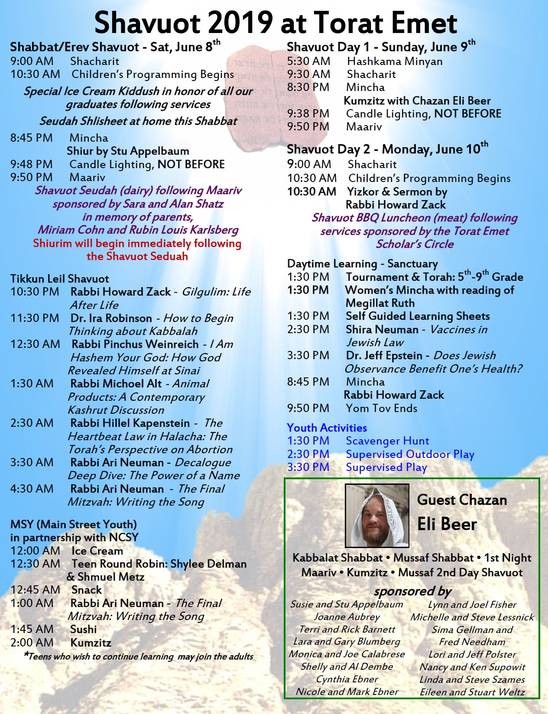 -------------------------------------------------------------------------------------------------------------
The High Street Community is a project led by Rabbi Ari Neuman for young professionals looking for meaningful Jewish experiences and fun ways to meet other young Jewish adults.  The program's goal is to help its participants learn about Judaism in a way that is exciting, enjoyable, open, and welcoming to others no matter their background.
For more information, or to sign up for HSC events and e-mails, please contact Rabbi Neuman at rabbineuman@toratemet.org
or call the office at 614-238-6778.
JEWISH WAR VETERANS CAPITOL POST 122
NEEDS COMMUNITY SUPPORT
Columbus, OH – Capitol Post 122 of the Jewish War Veterans (JWV), is the local chapter of Jewish War Veterans, a national Jewish non-profit organization dedicated to the service, support and recognition of all Jewish Veterans in Central Ohio. The Post is comprised of former Jewish Veterans residing in our community that elect to become members. The organization, functioning on the tireless efforts of past veteran volunteers, conducts activities throughout each year including Veteran's Sabbath Weekend, color guard and representation in the Veterans Day and Independence Day Parades, funeral participation and flag presentation, Memorial Day services and gravestone flag and marker placement and most prominently by maintaining a wall of remembrance located at the Columbus Jewish Community Center. As the Jewish Veteran population continues to decline along with organization membership, JWV Capitol Post 122 is finding it more difficult to meet the expenses of their annual overall budget. With each passing year, Central Ohio loses former veterans. JWV memorializes each and every identified Jewish Veteran, member or not, with a brass placard that is installed on the wall of remembrance memorial wall at the JCC. The raw cost for an individual bronze placard is $45 and with a declining membership base and thus income, Capitol Post 122 needs community financial support to preserve the ability to perform these important services for our Jewish Veterans now and for perpetuity. JWV is asking for any and all community financial support in order to be able to continue their valuable community services and maintain and expand the memorial wall at the Jewish Community Center, the gravestone flag and marker placement each and every Memorial Day and the annual programming. To make a tax-deductible contribution to Capitol Post 122 JWV please send your check to Saul Laub, Post 122 Commander, at 1001 Parkview Blvd, #212, Columbus, OH 43219. For more information and further questions regarding Jewish War Veterans, please contact Post Commander Saul Laub or Past (United States) National Commander Herbert Greff at (614) 439-7047.
Cafe 4300 is now open to the Jewish Community for lunch.
Patrons must sign in at the desk upon entering the building.
Buckeye Kosher Korner

For a recently updated list of Kosher symbols approved by Buckeye Kosher click here

Buckeye Kosher works only with approved caterers and commissaries. Please check their website buckeyekosher.org

Follow Buckeye Kosher (@BuckeyeKosher) on Twitter for the latest kashrus updates

www.buckeyekosher.org or info@buckeyekosher.org
Shabbat Table Discussions
To view or download Yeshiva University's latest Shabbat Table Discussions click  here ​​​​​​​
{{shulcloud_footer_left}}
{{shulcloud_footer_right}}
Thu, June 8 2023
19 Sivan 5783
Today's Calendar
Shacharit

: 7:00am
Mincha/Maariv

: 7:05pm
Exec Board Meeting
: 7:30pm
Contemporary Halacha

: 8:30pm
---
Friday Night
Mincha/Maariv

: 7:10pm
Early Candlelighting

: 7:30pm
Shabbat Day
Graduates Kiddush
Shacharit

: 9:00am
Pre-Mincha Shiur

: 8:00pm
Mincha

: 8:30pm
Shabbat Ends

: 9:50pm
Upcoming Programs & Events
---
This week's Torah portion is

Parshat Beha'alotcha
Shabbat Mevarchim
View Calendar
Zmanim
Alot Hashachar
4:18am
Earliest Tallit
5:02am
Netz (Sunrise)
6:03am
Latest Shema
9:46am
Zman Tefillah
11:02am
Chatzot (Midday)
1:31pm
Mincha Gedola
2:08pm
Mincha Ketana
5:52pm
Plag HaMincha
7:25pm
Shkiah (Sunset)
8:59pm
Tzeit Hakochavim
9:48pm
More >>
Thu, June 8 2023 19 Sivan 5783