Sponsored by: The Torat Emet website is sponsored in memory of Marcie Gilbert through the generosity of Larry Gilbert
The Torat Emet website is sponsored in memory of Marcie Gilbert through the generosity of Larry Gilbert
Weekly Emes October 20 - October 26, 2017
10/19/2017 05:26:35 PM
October 20 - October 26, 2017  Tishrei 30 - Cheshvan 6, 5778
Parashat Noach
Rosh Chodesh Cheshvan
Shalom!

Welcome to Congregation Torat Emet's weekly Emes, all the news and happenings at the shul and around the community. Enjoy and Shabbat Shalom!
Office Hours

Monday-Thursday
9:00 AM - 4:00 PM

Friday
9:00 AM - 1:00 PM
Friday
5:45 AM      Daf Yomi
6:45 AM      Shacharit
6:20 PM      Mincha
6:27 PM      Candle Lighting


Shabbat
8:30 AM      Parsha Schmooze - 
now meeting in the social hall
9:00 AM      Shacharit
5:25 PM      Pre-Mincha Shiur by
                   guest speaker
                   Rabbi Pesach Wolicki
6:05 PM      Mincha
D'var Torah by Chanan Siegel
7:25 PM      Havdalah
Weekday Schedule

Daf Yomi
7:00 AM      Sunday
6:00 AM      Monday-Friday

Shacharit
8:00 AM      Sunday
7:00 AM      Monday-Friday

Mincha/Maariv
6:15 PM      Sunday-Thursday
6:10 PM      Friday
Special Shabbat Pre-Mincha Guest Speaker (5:25 PM)
Rabbi Pesach Wolicki
"How Kosher is Jewish Christian Relations:
Theological, Halachic, and Anecdotal perspectives"
Rabbi Pesach Wolicki serves as the Associate Director of the Center for Jewish-Christian Understanding & Cooperation - an affiliate of Ohr Torah Stone, founded by Rabbi Shlomo Riskin, Chief Rabbi of Efrat, to build stronger ties between the Orthodox Jewish community and the Christian world. 
Class Schedule

*Please note changes to class schedule
Parsha Schmooze
Shabbat morning at 8:30 AM
now meeting in the social hall
Talmud Class with Rabbi Epstein
Sunday night at 8:00 PM
Women's Torah Text Workshop
with Linda Vlosky Zack
Tuesday, 8 PM at the Blumberg home
Calendar Corner

October 20th
High Street Shabbat Across Columbus
October 22nd
Lynd's Corn Maze & Smores
October 26th
High Street Challah Baking
October 28th
Teen Melava Malka Movie Madness
November 2nd
Dinner & Lecture featuring authentic Italian meal by Chef Giuseppe & presentation by Rabbi Benjamin Blech
November 5th
Torat Emet Annual Meeting
November 10th
Family Kabbalat Shabbat & Dinner
November 18th
Community Kiddush Luncheon
Mazel Tov!
to Susie and Jonny Diamond on the birth of a grandson. Proud parents are Jillian and Gabi Glicksberg
Kiddush & Seudah Shlisheet

Kiddush and Seudah Shlisheet this week are sponsored by the shul

Kiddush Captain this week is Peggy Kaplan. Kiddush Team members are Janet Abroms, Terry Goldmeier, Fran Greenberg, Agi Hartstein, Beverly Roseman-Shapiro, and Dorothy Salomons

If you would like to sponsor a Kiddush or Seudah Shlisheet. please click here
Ushers

Our ushers this week are Stu Appelbaum, and Terri & Rick Barnett
Gabbaim

Gabbai Rishon: Ari Berger                   Gabbai Sheni: Chanan Siegel
Donations

Kiddush Fund
in appreciation of
Perry & Yael Vernikof for their warm yom tov hospitality from Terri & Rick Barnett

Rabbi's Fund
in memory of
Paul Shapiro from Beverly Roseman-Shapiro & Stewart Shapiro
in appreciation of receiving an honor
from Pearl & Mel Perel
from Arlene & Ami Sapir
in honor of
Yizkor from Pearl & Mel Perel

Synagogue Fund
from Steve Waitzman
in appreciation of
Rabbi Epstein from Francine & Herb Greff
in appreciation of receiving an honor
from Eileen & Stuart Weltz
from Harriet & Murray Weinberg
from Francine & Herb Greff
in memory of
Lana Covel from Francine & Herb Greff
Charlotte Shulberg and Esther Kalef from Barbara & Ray Kalef
Happy Birthday this week to

Terri Barnett, Gary Blumberg, Chuck Cantor, Sylvia Ebner, David Kohn, Dani Lane, Daniel Lebowitz, Ira Nutis, Jonah Schottenstein, Francine Szames, Bradley Turiel, and Steve Winter
-----------------------------------------------------------------------------------------------------
Special Upcoming Kiddush
Shabbat, Parshat Toldot November 18th
Community Kiddush Luncheon
Each quarter, hard working volunteers will organize a Special Community Kiddush Lunch.  For a minimum donation of $36, you can mark significant occasions and have it listed in the weekly shul bulletin.  Pooling our resources together in this way will hopefully allow us to specially enhance a standard weekly kiddush.  If you want to participate in the upcoming community kiddush lunch click here
-----------------------------------------------------------------------------------------------------
-----------------------------------------------------------------------------------------------------
-----------------------------------------------------------------------------------------------------
                                  Congregation Torat Emet
                    Annual Synagogue Meeting

The annual meeting for Congregation Torat Emet will be held on Sunday, November 5th at 5:45pm.  There will be reports on the state of the congregation and a vote on the slate of officers and directors for the congregation.
 
Proposed Slate is below

                                            Congregation Torat Emet
                                  Report of the Nominating Committee
                                                Proposed Slate 5778
 
 
Executive Committee
Lifetime Co-Chairs of the Board                       Jay Schottenstein
                                                                         Jeanie Schottenstein
 
Past President                                                 Monica Calabrese
President                                                         Michael Blumenfeld
1st Vice President Gary Blumberg
2nd Vice President Yoni Zofan
Treasurer Michael Broidy
Secretary Stu Appelbaum
 
Non-Officer Executive Committee Members:
Joel Fisher
Wendy Horwitz
Lindsay Schottenstein
 
Directors
New Term -  5778-5780
Al Dembe
Betsey Lane
Steve Lessnick
Ariella Nutis
Devorah Weprin
 
Continuing Term - 5777-5779
Terri Barnett
Ari Berger
Lawrence Binsky
Mark Ebner
Perry Vernikoff
 
Respectfully Submitted by the Nominating Committee:
Gary Blumberg
Michael Blumenfeld
Monica Calabrese
Dan Levy
Naomi Myers
-----------------------------------------------------------------------------------------------------
-----------------------------------------------------------------------------------------------------
              Youth Department Announcements


Upcoming Events
Lynd's Corn Maze & Smores! Come join Torat Emet this Sunday 10/22 from 1:30PM - 3:30PM for fun activities at Lynd's farm. We will be hanging out and eating smores, running the corn maze and engaging with the other kid friendly activities. It should be fun for all! For pricing check out the Lynd Farm website: http://www.lyndfruitfarm.com/corn-maze/
Last Week's Review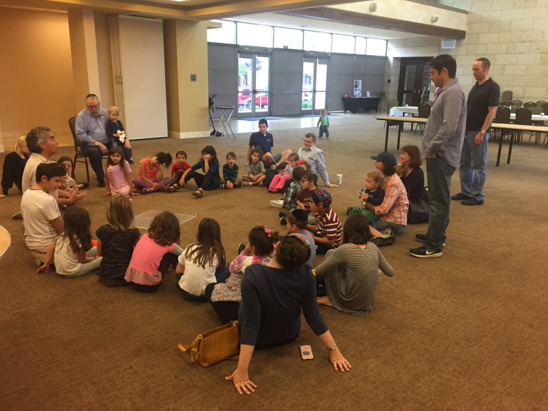 Pre-Noach Bug Show and Lunch! Participants learned how to care for and learn from insects with Mark from BUGMAN education. We even held a tarantula, witnessed a black widow and analyzed a praying mantis. 

Now Happening Monthly on Shabbat before Rosh Chodesh!
Bring your children by 9:35 AM to guarantee a small torah for your child to carry around 

For more information on children's programming and activities see the Youth Department's page on our website
The High Street Community is a project led by Rabbi Ari Neuman for young professionals looking for meaningful Jewish experiences and fun ways to meet other young Jewish adults.  The program's goal is to help its participants learn about Judaism in a way that is exciting, enjoyable, open, and welcoming to others no matter their background.
For more information, or to sign up for HSC events and e-mails, please contact Rabbi Neuman at rabbineuman@toratemet.org
or call the office at 614-238-6778.
 
Challah Baking & Model Shabbat Table - October 26th
​​​​​​​High Street First Friday - December 1st
High Street First Friday - February 16th

Contact Rabbi Ari Neuman at rabbineuman@toratemet.org for more information
Partnership2Gether
Join us for a wine pairing event to learn about our culinary mission to Israel!
The Jewish Federation of Columbus's partnership with Kfar Saba and 614 Shabbat invite you to a night of wine pairings to learn about the upcoming culinary mission to Israel in June 2018 and the Federation's partnership with the Israeli City of Kfar Saba.
If you are a foodie or simply enjoy the combination of nice people and food, come to taste wines and pair it with tasty food while hearing from Lori Ann Feibel and her daughter Addy, who will speak about their meaningful experiences with the partnership.
 
Saturday, October 21, 2017 at 8:30pm 
at  418 East Mound Street, Columbus, OH 43215
 
To register for the event, go to  jewishcolumbus.org/pairings .
$15 online before event, $20 at the door.
 
If you have any questions, please email Stephanie at  sgrossman@tcjf.org .
 
This event will also serve as the kickoff event for 614 Shabbat, which is a designated weekend for the entire Columbus Jewish community to experience Shabbat together.
 
The Partnership2Gether program through the Jewish Agency for Israel creates long-term partnerships and builds a living bridge between 45 regions in Israel and 550 Jewish communities worldwide. The main goal of the Partnerships is to serve as a platform for the development and strengthening of unity among Jewish communities. The bridges created strengthen the ties to Israel and the close relationship between Israel and the Diaspora.
Buckeye Kosher Korner
Buckeye Kosher works only with approved caterers and commissaries. Please check their website buckeyekosher.org
 
Follow Buckeye Kosher (@BuckeyeKosher) on Twitter for the latest kashrus updates
 
www.buckeyekosher.org or  info@buckeyekosher.org
Shabbat Table Discussions
To view or download Yeshiva University's latest Shabbat Table Discussions click  here ​​​​​​​
Congregation Torat Emet
2375 E Main Street
Columbus, OH 43209
"Olam Chesed Yibaneh - Building a World of Kindness" (Psalms 89:3)
{{shulcloud_footer_left}}
{{shulcloud_footer_right}}
Thu, February 2 2023
11 Shevat 5783
Today's Calendar
Shacharit

: 7:00am
Mincha/Maariv

: 5:30pm
---
Upcoming Programs & Events
---
This week's Torah portion is

Parshat Beshalach
Tu B'Shvat
View Calendar
Zmanim
Alot Hashachar
6:17am
Earliest Tallit
6:48am
Netz (Sunrise)
7:40am
Latest Shema
10:12am
Zman Tefillah
11:04am
Chatzot (Midday)
12:46pm
Mincha Gedola
1:11pm
Mincha Ketana
3:44pm
Plag HaMincha
4:48pm
Shkiah (Sunset)
5:52pm
Tzeit Hakochavim
6:34pm
More >>
Thu, February 2 2023 11 Shevat 5783