Sponsored by: The Torat Emet website is sponsored in memory of Marcie Gilbert through the generosity of Larry Gilbert
The Torat Emet website is sponsored in memory of Marcie Gilbert through the generosity of Larry Gilbert
Weekly Emes August 12 - August 18, 2022
08/11/2022 07:02:00 PM
August 12 - August 18, 2022                        15 Av - 21 Av 5782
Parashat Va'etchanan-Nachamu
The Officers, Board and Staff
wish you all a
​​​​​​​Shabbat Shalom 
Office Hours
​​​​​​
Monday-Thursday
9:00am - 4:00pm

Friday
9:00am - 1:00pm
Jay and Jeanie Schottenstein, Board Chairs
Gary Blumberg, President
Betsey Lane, Vice President
Stephen Lessnick, Vice President
Stuart Appelbaum, Secretary
Michael Broidy, Treasurer
Dr. Michael Blumenfeld, Past President
Rabbi Howard Zack, Rabbi
Rabbi Ari Neuman, Associate Rabbi
Frances Gellman, Office Manager
Jorge Flores, Facilities Manager

                     

Shabbat Schedule

Friday
7:00 AM   Shacharit
6:50 PM   Mincha/Maariv
7:10 PM   Early Candle Lighting

Shabbat
9:00 AM   Shacharit
10:30 AM Children's Programming
7:25 PM   Pre-Mincha Shiur
7:55 PM   Mincha
9:15 PM   Shabbat Ends

Weekday Schedule

Shacharit
8:00 AM   Sunday
7:00 AM   Monday-Friday
Mincha/Maariv
6:45 PM   Monday-Thursday
6:40 PM   Friday
Calendar Corner

August 20th
Kiddush Luncheon sponsored by Tobi & Jeff Siegel
August 27th-28th
Rosh Chodesh Elul
August 27th
Kiddush Luncheon sponsored by Marlene & Stuart Weltz
August 28th
Unveiling for Harriet Weinberg
Welcome to our new members!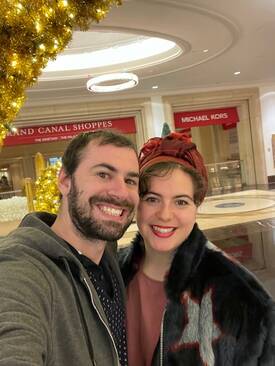 David and Sarah Kravitz
We're Sarah and David Kravitz! We've escaped Washington D.C. and come to Columbus for the lovely community, or as David likes to say - so we can meet you! Sarah is finishing her PhD in Human Development and is an expert crafter. David is a technical project manager and a semi-retired stand up comedian (D.C. is a sensitive crowd). Our Cowboys-Eagles mixed marriage has lasted 3 years, and half of us have really enjoyed the rivalry. We're avid board game enthusiasts in search of a new gaming crew, so if you like 3 hour board games, please come talk to us!

Sam, Noa, Yakira, Amitai and Tamar Weisbrod

The history of Family Weisbrod is as storied as it is mysterious. Whilst some are knowledgeable of the lore surrounding the family's origins in the frozen Canadian Tundra, only few are privileged to the details of the truth. The dark truth. 
It is documented that Sam "McGillacutty" Weisbrod emerged from the womb fully grown at a whopping 6"6,  and some have even reported observing him wear platform shoes.
A Chicago native, Tamar Becker inherited the mantle of G-d Mother when she succeeded her grand father Al Capone at the head of the family business. Upon moving to Columbus, she has already expanded her empire by amalgamating the infamous "Kia Boys" into her fold. 
Amitai (Aged 9 years, sherry oak cask) can draw a comic of just about anything, whilst his little sister Noa (4 years old) somersaults her way straight into your heart.
Baby Yakira smiles and goobers on innocently enough, but there is much mischief behind the facade. Still waters run deep. 
And of course, we don't talk about Bruno. 
The Weisbrods are delighted to be in Columbus, and are looking very forward to meeting you.

Mazel Tov!
to Pearl and Mel Perel on the birth of a granddaughter, proud parents are Shira and Daniel Perel

to Shifra Tyberg and Rephael Wenger on the birth of a granddaughter, proud parents are Hannah and Shahar Tam-Wenger.
Refuah Shleyma
to Millie Blumenfeld, Miriam Goldmeier, Phillip Needham and Ami Sapir
Kiddush & Seudah Shlisheet

Kiddush (meat) this week is sponsored by Jason Roden and Family in honor of his aufruf and upcoming marriage to Faith Edeson

Seudah Shlisheet this week is sponsored by the kiddush fund, please click here to make a donation


Kiddush Team Captain: Lisa Eckmann
Donations

CHESED FUND
in honor of
Shifra and Rafe's new granddaughter from Sally & Mark Wachter

RABBI'S FUND
in commemoration of the yahrzeit of
Miriam bat Mordechai from Laurie & Ron Reitman

SYNAGOGUE FUND
in appreciation of receiving an honor
from Jamie & Avi Bindell
in honor of
our new granddaughter from Rafe and Shifra from Shifra Tyberg & Rafe Wenger
wishing a mazel tov to
Shifra Tyberg and Rafe Wenger on the birth of their granddaughter from Marilyn & Stuart Cole,
to Pearl and Mel Perel on the birth of their granddaughter from Marlene & Stuart Weltz
wishing a refuah shleymah for
Avi Mori Mordechai Yosef ben Tyba from Natalie Berenstein
Happy birthday this week to:
Susie Stan, Dovid Hollander, Rai Gutwaks, Eliana Abraham, Mark Ebner, and Aaron Epstein
Yahrzeits for this week are
Hyman Abromowitz, father of Hillard Abroms; grandfather of Stacy Bandler
Kimberly Ann Hagan, daughter of Marjorie and Nicholas Ciranni
Robert Fish, grandfather of Suzanne Hoxworth
Irwin Winston Blumberg, father of Gary Blumberg
Sanford Stern, father of Barbara Meluch
Rabbi Manfred Gans, grandfather of Elisheva Rosenberg
Antoinette Polster, mother of Jeff Polster
Zalman Kominiar, grandfather of Sarah Blumenfeld
Thank you to to 


 
for their financial assistance in reopening the synagogue for services, and partnering with us to provide our security for Shabbat and Holidays, and for 
Donate to their annual campaign here.
Bowling
The I.M. Harris Men's B'nai B'rith Bowling League will begin its 92nd season September 18 for bowlers all ages and skill levels. Bowling takes place at 9:30am each Sunday morning at Holiday Lanes at
4589 E. Broad St. in Whitehall. 
We are putting out feelers for a Torat Emet Bowling Team! If you are interested in joining please speak with Rick Barnett.
_________________________________________________________
_________________________________________________________
Would you like to get real time Torat Emet notifications, hear about volunteer opportunities, and share cheerful tidings and thoughts with fellow Torat Emet members here and in Israel?



Then join the

T.E.amwork

WhatsApp already!

Have meaningful and uplifting social and informational conversations (no politics allowed) with your Torat Emet friends.  We look forward to hearing from you.

If you need assistance in signing onto the WhatsApp Group please contact the Torat Emet office.
_________________________________________________________
Buckeye Kosher Korner

For a list of reliable Kosher symbols approved by Buckeye Kosher click here

Buckeye Kosher works only with approved caterers and commissaries. Please check their website buckeyekosher.org

Follow Buckeye Kosher (@BuckeyeKosher) on Twitter for the latest kashrus updates

www.buckeyekosher.org or info@buckeyekosher.org
{{shulcloud_footer_left}}
{{shulcloud_footer_right}}
Thu, June 8 2023
19 Sivan 5783
Today's Calendar
Shacharit

: 7:00am
Mincha/Maariv

: 7:05pm
Exec Board Meeting
: 7:30pm
Contemporary Halacha

: 8:30pm
---
Friday Night
Mincha/Maariv

: 7:10pm
Early Candlelighting

: 7:30pm
Shabbat Day
Graduates Kiddush
Shacharit

: 9:00am
Pre-Mincha Shiur

: 8:00pm
Mincha

: 8:30pm
Shabbat Ends

: 9:50pm
Upcoming Programs & Events
---
This week's Torah portion is

Parshat Beha'alotcha
Shabbat Mevarchim
View Calendar
Zmanim
Alot Hashachar
4:18am
Earliest Tallit
5:02am
Netz (Sunrise)
6:03am
Latest Shema
9:46am
Zman Tefillah
11:02am
Chatzot (Midday)
1:31pm
Mincha Gedola
2:08pm
Mincha Ketana
5:52pm
Plag HaMincha
7:25pm
Shkiah (Sunset)
8:59pm
Tzeit Hakochavim
9:48pm
More >>
Thu, June 8 2023 19 Sivan 5783