Sponsored by: The Torat Emet website is sponsored in memory of Marcie Gilbert through the generosity of Larry Gilbert
The Torat Emet website is sponsored in memory of Marcie Gilbert through the generosity of Larry Gilbert
Weekly Emes May 13 - May 19, 2022
05/12/2022 07:01:05 PM
May 13 - May 19, 2022              12 Iyar - 18 Iyar 5782
The Officers, Board and Staff
wish you all a
​​​​​​​Shabbat Shalom 
Office Hours
​​​​​​
Monday-Thursday
9:00am - 4:00pm

Friday
9:00am - 1:00pm
Jay and Jeanie Schottenstein, Board Chairs
Gary Blumberg, President
Betsey Lane, Vice President
Stephen Lessnick, Vice President
Stuart Appelbaum, Secretary
Michael Broidy, Treasurer
Dr. Michael Blumenfeld, Past President
Rabbi Howard Zack, Rabbi
Rabbi Ari Neuman, Associate Rabbi
Frances Gellman, Office Manager
Jorge Flores, Facilities Manager

                     

Shabbat Schedule

Friday
7:00 AM   Shacharit
6:50 PM   Mincha/Maariv
7:10 PM   Early Candle Lighting

Shabbat
9:00 AM   Shacharit
7:35 PM   Pre-Mincha Shiur
8:05 PM   Mincha
9:25 PM   Shabbat Ends

Weekday Schedule

Shacharit
8:00 AM   Sunday
7:00 AM   Monday-Friday

Mincha/Maariv
6:55 PM   Sunday-Friday
Calendar Corner

May 15th
Pesach Sheni
May 19th
Lag B'Omer
May 25th
L'Chaim! Main Event 2022
May 29th
Yom Yerushalayim
May 31st
Rosh Chodesh Sivan


Mazel Tov!
to Anne Shulman who is being recognized by Grant Hospital this week for her 50 years of employment at the hospital at a special gala event at the Columbus Zoo and Aquarium

to Rochell and David Weisfogel on the Bar Mitzvah of their grandson, Tzviki Becker. Proud parents are Miriam and Dovie Becker.

Refuah Shleyma
to Millie Blumenfeld, Miriam Goldmeier
Condolences
to Mildred Blumenfeld and Dr. Michael Blumenfeld and families on the passing of husband and father, Theodore Blumenfeld
Donations

CHESED FUND
in memory of
Theodore Blumenfeld from Sally & Mark Wachter

KIDDUSH FUND
from Marge & Nick Ciranni
in appreciation of
Janice and Rabbi Joel Epstein for their kindness, friendship and generosity from Estelle Grossman

RABBI'S FUND
in memory of
Theodore Blumenfeld from Agi & Jon Hartstein,
Theodore Blumenfeld from Michele & Andy Bernstein,
Theodore Blumenfeld from Meri & Ed King

SYNAGOGUE FUND
in memory of
Theodore Blumenfeld from Marcia & Avrom Epstein,
Theodore Blumenfeld from Marlene & Stuart Weltz,
Theodore Blumenfeld from Rachel & Benjie Metz & Family,
Theodore Blumenfeld from Terri & Rick Barnett,
Theodore Blumenfeld from Lynn & Joel Fisher

Happy birthday this week to:
Leo Schottenstein, Barry Starr, Jane Rabe, Miriam Kahn, Orli Hartstein, Daniel Perel, Ely Zofan, Ari Berger, Justin Pinsker, Meira Zack, Stephen Lessnick, and Larry Garvin
Yahrzeits for this week are
Joel Wolff, husband of Diana D'Angelo-Wolff
Esther Boiman, mother of Irving Boiman
Fannie Horwitz, grandmother of Wendy Horwitz
Mort Arno, father of Meri Arno-King
Thank you to to 


 
for their financial assistance in reopening the synagogue for services, and partnering with us to provide our security for Shabbat and Holidays, and for 
Donate to their annual campaign here.
Support Torat Emet and Schmooze like its 2019!!


Click here to submit your sponsorship and RSVP today!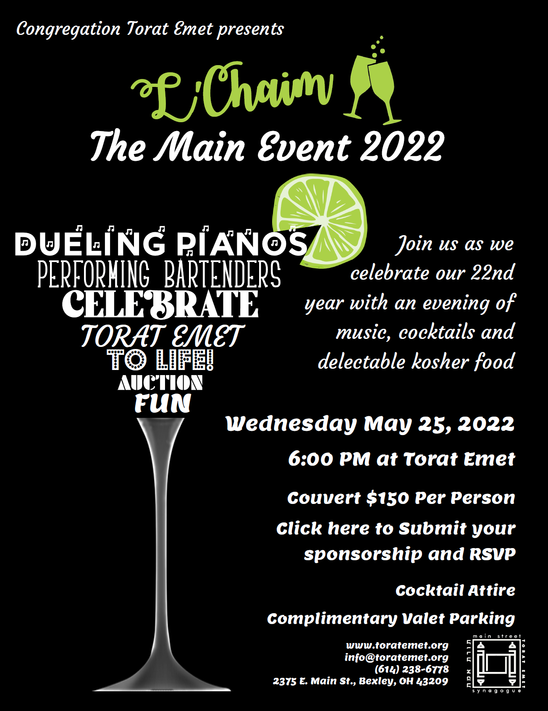 _________________________________________________________
Would you like to get real time Torat Emet notifications, hear about volunteer opportunities, and share cheerful tidings and thoughts with fellow Torat Emet members here and in Israel?



Then join the

T.E.amwork

WhatsApp already!

Have meaningful and uplifting social and informational conversations (no politics allowed) with your Torat Emet friends.  We look forward to hearing from you.

If you need assistance in signing onto the WhatsApp Group please contact the Torat Emet office.
_________________________________________________________

Would you like to improve your davening skills?
Learn to lead the services, read from the Torah or
recite the Haphtorah?

Always wanted to study the Chumash, Mishna,
or Talmud at your own pace?

Rabbi Epstein can make it happen.

As many of you know, Rabbi Joel Epstein has been studying one on one with individuals and in small groups on a wide range of subjects for many years. He has continued doing this during the pandemic, teaching Bar/Bat Mitzvah students, men, women, teens and kids on all levels-- in Columbus (and around the country & world!) --  on the phone &  through Skype.
As our community wraps up a run of simchas, Rabbi Epstein has availability to study with new students of all ages. Possible learning opportunities include (but are not limited to)
*Leading Weekday or Shabbat Services
*Learning Trope and/or Reading a Haphtorah/Torah portion (whether new or reviewing your Bar Mitzvah portion!) or Megillah
*Studying texts (liturgy, Chumash, Mishnah & Gemara) 
 
Feel free to reach out to him in person, by phone, or e-mail


{{shulcloud_footer_left}}
{{shulcloud_footer_right}}
Thu, June 1 2023
12 Sivan 5783
Today's Calendar
Shacharit

: 7:00am
Mincha/Maariv

: 7:00pm
---
Friday Night
Mincha/Maariv

: 7:05pm
Early Candlelighting

: 7:25pm
Shabbat Day
Upcoming Programs & Events
---
This week's Torah portion is

Parshat Nasso
Shabbat Mevarchim
View Calendar
Zmanim
Alot Hashachar
4:22am
Earliest Tallit
5:05am
Netz (Sunrise)
6:05am
Latest Shema
9:47am
Zman Tefillah
11:02am
Chatzot (Midday)
1:30pm
Mincha Gedola
2:07pm
Mincha Ketana
5:49pm
Plag HaMincha
7:22pm
Shkiah (Sunset)
8:54pm
Tzeit Hakochavim
9:43pm
More >>
Thu, June 1 2023 12 Sivan 5783