Sponsored by: The Torat Emet website is sponsored in memory of Marcie Gilbert through the generosity of Larry Gilbert
The Torat Emet website is sponsored in memory of Marcie Gilbert through the generosity of Larry Gilbert
Weekly Emes May 6 - May 12, 2022
05/05/2022 07:01:19 PM
April 29 - May 5, 2022              28 Nisan - 4 Iyar 5782
Parashat Kedoshim
Bar Mitzvah of Aryeh Kopp
The Officers, Board and Staff
wish you all a
​​​​​​​Shabbat Shalom 
Office Hours
​​​​​​
Monday-Thursday
9:00am - 4:00pm

Friday
9:00am - 1:00pm
Jay and Jeanie Schottenstein, Board Chairs
Gary Blumberg, President
Betsey Lane, Vice President
Stephen Lessnick, Vice President
Stuart Appelbaum, Secretary
Michael Broidy, Treasurer
Dr. Michael Blumenfeld, Past President
Rabbi Howard Zack, Rabbi
Rabbi Ari Neuman, Associate Rabbi
Frances Gellman, Office Manager
Jorge Flores, Facilities Manager

                     

Shabbat Schedule

Friday
7:00 AM   Shacharit
6:45 PM   Mincha/Maariv
7:05 PM   Early Candle Lighting

Shabbat
9:00 AM   Shacharit
7:25 PM   Pre-Mincha Shiur
7:55 PM   Mincha
D'var Torah by Dr. David Eckmann
9:17 PM   Shabbat Ends

Weekday Schedule

Shacharit
8:00 AM   Sunday
7:00 AM   Monday-Friday

Mincha/Maariv
6:50 PM   Sunday-Friday
Calendar Corner

May 15th
Pesach Sheni
May 19th
Lag B'Omer
May 25th
L'Chaim! Main Event 2022
May 29th
Yom Yerushalayim
May 31st
Rosh Chodesh Sivan


Mazel Tov!
to Jessica & Josh Kopp and Erin Essak Kopp & Margaret Rosencrans on the Bar Mitzvah of their son, Aryeh

to Ryan Bernstein and Yaki Liebesman on being named as Erkins & Lou Berliner High School Jewish Scholar/Athlete Award finalists

to Rose Clubok on being named the first place winner of the David and Irene Cole Essay Contest

to Yaakov Newman on being named the third place winner of the David and Irene Cole Essay Contest
Refuah Shleyma
to Miriam Goldmeier and Suzanne Hoxworth
Kiddush & Seudah Shlisheet

Kiddush this week is sponsored by Jessica & Josh Kopp, and Erin Essak Kopp & Margaret Rosencrans in honor of the Bar Mitzvah of their son, Aryeh

Seudah Shlisheet this week is sponsored by in commemoration of the yahrzeits of parents, Estherlea and Bertram Eckmann
Donations

CHESED FUND
in honor of
the Bat Mitzvah of Alia Newman from Estelle Grossman

RABBI'S FUND
in honor of
Stuart Cole's special birthday from Agi & Jon Hartstein
in memory of
Leah Meyer from Stacy Leeman & Gary Liebesman
wishing a mazel tov to
Joni and David Schottenstein on the birth of a granddaughter from Agi & Jon Hartstein

SYNAGOGUE FUND
in commemoration of the yahrzeit of
mother, Celia Weltz from Marlene & Stuart Weltz
Happy birthday this week to:
Suzanne Hoxworth, Linda Rubin, Rabbi Ari Neuman, Gadi Bandler, Noah Schuman, David Buren, Tobi Siegel, Bradley Binsky, Brian Schuman, and Stu Appelbaum
Yahrzeits for this week are
Sarah Feldman, mother of Dora Kopp; grandmother of Josh Kopp
Herbert Michael Zemon, grandfather of Laurie Alexander
Pauline Cantor, mother of Charles Cantor
Estherlea Eckmann, mother of David Eckmann
Julius Eckmann, Grandfather of David Eckmann
Elfrida Schmerler Ritter, mother of Eydie Garlikov
Dr. David Hershfield, father of Robert Hershfield
Shirley Dembe, mother of Allard Dembe
Celia Weltz, mother of Stuart Weltz
Giselle Weisfogel, mother of David Weisfogel
Thank you to to 


 
for their financial assistance in reopening the synagogue for services, and partnering with us to provide our security for Shabbat and Holidays, and for 
Donate to their annual campaign here.
Get ready for our first in person Main Event since 2019!!


Click here to submit your sponsorship and RSVP today!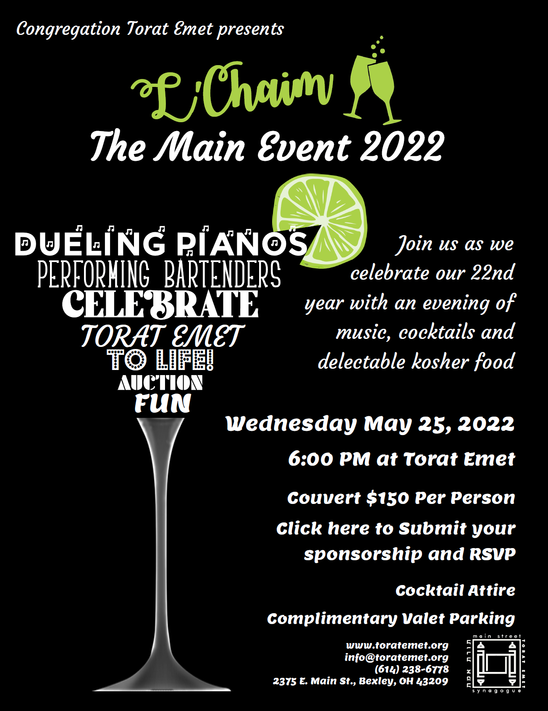 _________________________________________________________
Would you like to get real time Torat Emet notifications, hear about volunteer opportunities, and share cheerful tidings and thoughts with fellow Torat Emet members here and in Israel?



Then join the

T.E.amwork

WhatsApp already!

Have meaningful and uplifting social and informational conversations (no politics allowed) with your Torat Emet friends.  We look forward to hearing from you.

If you need assistance in signing onto the WhatsApp Group please contact the Torat Emet office.
_________________________________________________________
{{shulcloud_footer_left}}
{{shulcloud_footer_right}}
Thu, June 1 2023
12 Sivan 5783
Today's Calendar
Shacharit

: 7:00am
Mincha/Maariv

: 7:00pm
---
Friday Night
Mincha/Maariv

: 7:05pm
Early Candlelighting

: 7:25pm
Shabbat Day
Upcoming Programs & Events
---
This week's Torah portion is

Parshat Nasso
Shabbat Mevarchim
View Calendar
Zmanim
Alot Hashachar
4:22am
Earliest Tallit
5:05am
Netz (Sunrise)
6:05am
Latest Shema
9:47am
Zman Tefillah
11:02am
Chatzot (Midday)
1:30pm
Mincha Gedola
2:07pm
Mincha Ketana
5:49pm
Plag HaMincha
7:22pm
Shkiah (Sunset)
8:54pm
Tzeit Hakochavim
9:43pm
More >>
Thu, June 1 2023 12 Sivan 5783