Sponsored by: The Torat Emet website is sponsored in memory of Marcie Gilbert through the generosity of Larry Gilbert
The Torat Emet website is sponsored in memory of Marcie Gilbert through the generosity of Larry Gilbert
Weekly Emes July 9 - July 15, 2021
07/09/2021 10:43:46 AM
July 9 - July 15, 2021                  29 Tammuz - 6 Av, 5781
Parashat Matot-Masei
Rosh Chodesh Av
Shalom!

Welcome to Congregation Torat Emet's weekly Emes, all the news and happenings at the shul and around the community. Enjoy and Shabbat Shalom!
Office Hours

Monday-Thursday
9:00am - 4:00pm

Friday
9:00am - 1:00pm
Jay and Jeanie Schottenstein, Board Chairs
Gary Blumberg, President
Betsey Lane, Vice President
Stephen Lessnick, Vice President
Stuart Appelbaum, Secretary
Michael Broidy, Treasurer
Dr. Michael Blumenfeld, Past President
Rabbi Howard Zack, Rabbi
Rabbi Ari Neuman, Associate Rabbi
Frances Gellman, Office Manager
Jorge Flores, Facilities Manager

                     

Mask wearing is no longer required in the main sanctuary except for  the Covid Safe Spaces at the rear of the shul and in the balcony.  Unvaccinated adults and children under 12 should wear masks and observe proper social distancing while in the building.
Friday
7:00 AM      Shacharit
7:10 PM      Mincha/Maariv
7:30 PM      Early Candle Lighting

Shabbat
9:00 AM      Shacharit
10:30 AM    Children's groups begin
8:30 PM      Mincha/Maariv
9:51 PM      Shabbat Ends
Shacharit
8:00 AM   Sunday
7:00 AM   Monday-Friday

Mincha/Maariv
7:15 PM   Sunday-Thursday
7:10 PM   Friday
Calendar Corner

July 8th
Achdut BBQ: Together Again!
July 10th
Rosh Chodesh Av
July 18th
Tisha B'Av
August 14th
Community Kiddush Luncheon in honor of Joni & David Schottenstein
Kiddush & Seudah Shlisheet
Kiddush & Seduah Shlisheet this week are sponsored by the Kiddush Fund, donate here.

Kiddush Team Captain is Peggy Kaplan. Kiddush Team Members are Janet Abroms, Terry Goldmeier, Jenna Greenberg, and Dorothy Salomons
Refuah Shleymah
to Fran Greenberg and Uri Sofer
Donations

ACHDUT BBQ SPONSORS
Lisa & David Eckmann

ACHDUT BBQ DONORS
Anne & Marc Neiwirth,
Sara & Alan Shatz,
Terry & David Goldmeier,
Meri & Ed King

BEIT MIDRASH FUND
in memory of
Shalom Pinchas Elisha Ben Yecheskel Shraga from Avrum Reiss

SYNAGOGUE FUND
wishing a refuah shleymah for
Fran Greenberg from Sarah Frank
Happy birthday this week to:
Estelle Grossman, Fran Greenberg, Noa Weprin, Adina Kozberg, Liana Siegel, Victoria Ilin, Jake Rose, and Matan Gutwaks
Yahrzeits for this week are
Gustave Block, father of Cheryl Miller
Toiba Szames, mother of Irvin Szames; grandmother of Elizabeth Kalef and Steven Szames
Gail Eisenman, mother of Kimberly Binsky
Hyman Zack, father of Sidney Zack; grandfather of Rabbi Howard Zack
Ruth Braun, mother of Sally Wachter; grandmother of Meagan Buren
Ettagail Shatz, mother of Alan Shatz; grandmother of Aaron Shatz
Irving Modes, husband of Julia Modes; brother of Sonia Modes Schottenstein
Thank you to to 


 
for their financial assistance in reopening the synagogue for services, and partnering with us to provide our security for Shabbat and Holidays, and for 
Donate to their annual campaign here.
Achdut BBQ: Together Again! at Torat Emet
​​​​​​​Our Achdut (unity) BBQ yesterday celebrating our ability to regather as a community was attended by over 200 people!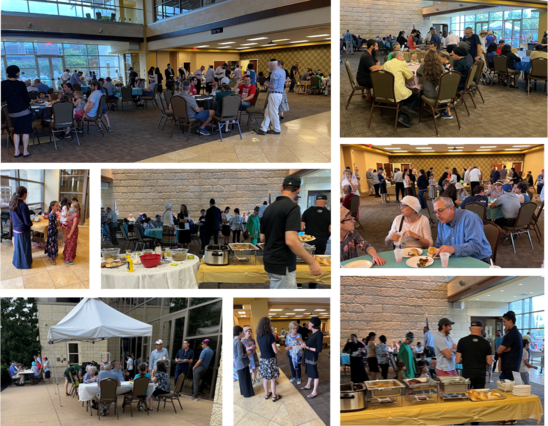 _________________________________________________________
The Three Weeks & Tisha B'Av
Tisha B'Av is July 17 & 18
Our complete guidelines to the Three Weeks and Tisha B'Av can be accessed by clicking here, from our website, and on the PR table outside the Sanctuary.
_________________________________________________________
_________________________________________________________
Would you like to get real time Torat Emet notifications, hear about volunteer opportunities, and share cheerful tidings and thoughts with fellow Torat Emet members here and in Israel?

Then join the

T.E.amwork

WhatsApp already!

Have meaningful and uplifting social and informational conversations (no politics allowed) with your Torat Emet friends.  We look forward to hearing from you.

If you need assistance in signing onto the WhatsApp Group please contact the Torat Emet office.
_________________________________________________________
High Street Synagogue
an Affiliate of Torat Emet
The High Street Community is a project sponsored by Jonathan and Nicole Schottenstein, and led by Rabbi Ari Neuman, for young professionals looking for meaningful Jewish experiences and fun ways to meet other young Jewish adults.  The program's goal is to help its participants learn about Judaism in a way that is exciting, enjoyable, open, and welcoming to others no matter their background.
For more information, or to sign up for HSC events and e-mails, please contact Rabbi Neuman at rabbineuman@toratemet.org
or call the office at 614-238-6778.
{{shulcloud_footer_left}}
{{shulcloud_footer_right}}
Thu, June 8 2023
19 Sivan 5783
Today's Calendar
Shacharit

: 7:00am
Mincha/Maariv

: 7:05pm
Exec Board Meeting
: 7:30pm
Contemporary Halacha

: 8:30pm
---
Friday Night
Mincha/Maariv

: 7:10pm
Early Candlelighting

: 7:30pm
Shabbat Day
Graduates Kiddush
Shacharit

: 9:00am
Pre-Mincha Shiur

: 8:00pm
Mincha

: 8:30pm
Shabbat Ends

: 9:50pm
Upcoming Programs & Events
---
This week's Torah portion is

Parshat Beha'alotcha
Shabbat Mevarchim
View Calendar
Zmanim
Alot Hashachar
4:18am
Earliest Tallit
5:02am
Netz (Sunrise)
6:03am
Latest Shema
9:46am
Zman Tefillah
11:02am
Chatzot (Midday)
1:31pm
Mincha Gedola
2:08pm
Mincha Ketana
5:52pm
Plag HaMincha
7:25pm
Shkiah (Sunset)
8:59pm
Tzeit Hakochavim
9:48pm
More >>
Thu, June 8 2023 19 Sivan 5783