Sponsored by: The Torat Emet website is sponsored in memory of Marcie Gilbert through the generosity of Larry Gilbert
The Torat Emet website is sponsored in memory of Marcie Gilbert through the generosity of Larry Gilbert
Weekly Emes May 29 - June 3, 2020
05/28/2020 11:56:02 AM
May 29 - June 3, 2020                          6 Sivan - 12 Sivan, 5780
Shalom!

Welcome to Congregation Torat Emet's weekly Emes, all the news and happenings at the shul and around the community. Enjoy and Shabbat Shalom!
Office Hours
*Please note: Office staff are available by phone or email only until further notice
*We have a mailbox by the back patio entrance if you have things to drop off to the office

Monday-Thursday
9:00 AM - 4:00 PM

Friday
9:00 AM - 1:00 PM



Services and classes will not be held at Torat Emet until further notice (see start-up information below in yellow). Whenever possible, they will be held via Zoom.

The Jewish community has thrived for millenia on its intimacy and close connections. While we will be physically apart for the foreseeable future, we will strive to maintain our emotional and spiritual bonds during this time. Below you will find links to join daily Shacharit and Mincha-Maariv services, Torat Emet Classes, and Rabbi Neuman's new Podcast on Minor Biblical Characters. May our learning and prayer help bring ​​​​​​​us back together soon. 


Shavuot & Shabbat Schedule
All services marked with an asterisk ( * ) are clickable links to join the service via Zoom

Thursday-Erev Shavuot
12:30 PM  Mesillat Yesharim with Rabbi Neuman *
Eruv Tavshilin
6:45 PM   Pre-Shavuot Ruach followed by Mincha*
8:31 PM   Candle Lighting
9:41 PM   Maariv

Friday - 1st Day Shavuot
6:06 AM   Sunrise
9:30 AM   Shacharit
7:05 PM   Early Mincha
7:25 PM   Early Candle Lighting
8:30 PM   Mincha
8:34 PM   Candle Lighting
Shabbat - 2nd Day Shavuot
9:00 AM   Shacharit
Yizkor
8:40 PM   Mincha
9:42 PM   Shabbat & Yom Tov End
We anticipate starting weekday Shacharit at shul on Sunday June 7th for fifteen to twenty members maximum. Members will have to register in advance and follow all guidelines to attend services in person. All others will still be able to join via Zoom. Information on registration and guidelines will be sent out next week.
Calendar Corner

May 28th-30th
Shavuot
June 22nd & 23rd
Rosh Chodesh Tammuz


Mazel Tov!

to Sarah Frank on the birth of a granddaughter. Proud parents are Melanie and Daniel Frank.
Refuah Shleyma

to Arthur Clubok, father of Kenneth Clubok
Donations

RABBI'S FUND
in appreciation of
Miriam Kahn for making face masks from Linda & Barry Starr

SYNAGOGUE FUND
in appreciation of
Torat Emet from the Waitzman Family
in commemoration of the yahrzeit of
father and grandfather, Dr. Bart J. Epstein from Marcia & Avrom Epstein & Family
in honor of
family Yahrzeits from Sonia Schottenstein
wishing a mazel tov to
to Cynthia and Sam Levy, and Barbara and Alan Levy, on the birth of their son and grandson from Stuart Weltz
Happy birthday this week to:
Ruth Blumberg, Ben Kozberg, Jonathan Gisser, Duana Boiman, Julia Chase, Jaden Lessnick, Noam Rosenberg, Marcia Hershfield, Larry Weprin, Rabbi Howard Zack, and Lilly Weprin
Join our Pre-Shavuot Ruach in honor of this week's birthdays! 
Thursday, May 28th at 6:45 PM. Click HERE to join the Pre-Shabbat Ruach ZOOM session!
Yahrzeits for this week are
Dorothy Lurie, grandmother of Meri Arno-King
Rubin Karlsberg, father of Sara Shatz; grandfather of Aaron Shatz
Stephen Haberkorn, father of Michelle Lessnick
Henry O. Slone, father of Sheila Zwelling
Ralph Appelbaum, father of Stuart Appelbaum
Max Dreifus, grandfather of Agnes Hartstein
Faiga Schuster, grandmother of Sonia Schottenstein
Zvi Tyberg, father of Shifra Tyberg
Morrie Weisman, great Uncle of Mel Perel
Thank you to to 


 
for partnering with us to provide our security
for Shabbat and Holidays. 
Donate to their annual campaign here.
_________________________________________________________
Shavuot at Home Sources & Guide
click here for a printable version of Rabbi Zack's Shavuot at Home Guide
With great sadness we will not be physically together to recreate the power of Mount Sinai and celebrate our Anniversary with God. However, we remain spiritually and emotionally bonded ki'ish echad bi'lev echad (as if we were all parts of one person with one heart). In an effort to help us prepare for receiving the Torah we will be sharing a number of wonderful resources that we know can enhance your celebration. 

The first resource is a program from Moed called Shir Shavuot. Torat Emet has joined with an international cadre of communities who will be encouraging their families to explore the power of song through a family friendly discussion based source sheet. 
To view an introductory video click  here
To download the packet and join the program click  here

There are many other wonderful resources that you can access and print in preparation for the Chag. Here are several links to some of the best ones available:
https://www.ou.org/sinai/    
Feel free to browse their archive and as you choose classes the website will automatically put all of the shiur source sheets into a single PDF packet that is compact and easy to print. 

Yeshiva University has put its Torah to Go essays online with articles, essays and learning packets for shavuot.  You can download them here:  https://www.yutorah.org/togo/shavuot/

Maggid Publishers has put together a wonderful Shauvout packet including essays from Dr. Yael Ziegler, Rabbi Norman Lamm and Rabbi Jonathan Sacks.  You can download them here:
https://mailchi.mp/korenpub.com/uu1ezd23e1

Click  here  for printable activities for children

Lastly, websites like
Yutorah.org
Torahmusings.com
https://www.etzion.org.il/en/  
to name a few, all have incredible torah thoughts. However, you will need to take a few minutes to navigate and sift through the many shiur options that each of these websites offer. Stay safe, learn well and may we merit to soon be learning face to face.  

Shavuot at Home Guide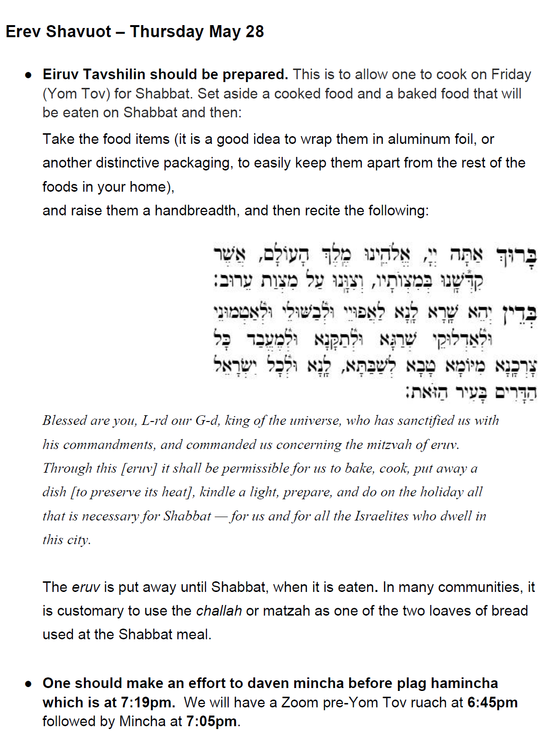 ​​​​​​​
_________________________________________________________
_________________________________________________________
_________________________________________________________
_________________________________________________________
Important ZOOM Updates

In order to provide increased protection and resistance to tampering for meetings, ZOOM has updated their app. You can download the updated version here:  https://zoom.us/download. After May 30th, if you have not yet downloaded the new version you will be forced to before you can join a meeting.
_________________________________________________________
T.E.amwork
Torat Emet Friends -

While the stay at home directive has constrained our traditional socializing routines, the gift of technology has allowed us to remain joyfully connected.  Torat Emet has introduced a WhatsApp group specifically dedicated to keeping us together during this historic time.  Members of the Torat Emet family are posting the same kind of information that we enjoy sharing when we are physically together – general community updates, jokes, family news, inspirational messages….. 

I hope that you will join our WhatsApp group.  The family is not complete without you.

Talk to you in the App!!
 
Rabbi Zack
_________________________________________________________
_________________________________________________________
Torat Emet is excited to be part of the Life & Legacy Initiative sponsored by the Howard Grinspoon Foundation and Jewish Columbus.  The objective is building endowments to help ensure our Jewish future for generations to come.
 
Click here for a short information page. Also, keep an eye out as the program kicks off in February 2020
 
Please contact Stu Appelbaum for further information
stu@mpex.com
614-390-9940
The High Street Community is a project sponsored by Jonathan and Nicole Schottenstein, and led by Rabbi Ari Neuman, for young professionals looking for meaningful Jewish experiences and fun ways to meet other young Jewish adults.  The program's goal is to help its participants learn about Judaism in a way that is exciting, enjoyable, open, and welcoming to others no matter their background.
For more information, or to sign up for HSC events and e-mails, please contact Rabbi Neuman at rabbineuman@toratemet.org
or call the office at 614-238-6778.
Buckeye Kosher

Buckeye Kosher Now Delivers
In an effort to help the community during this uncertain time, Buckeye Kosher is trialing a kosher-food shopping/delivery service to those who have an underlying need and are unable to get out during this time. Please email Kosher Department orders to  deliveries@buckeyekosher.org . We plan to shop before 5:30 pm on Mondays and Thursdays, with delivery shortly thereafter. Payments will need to be paid with a credit card via Square the day that the shopping is made prior to drop-off. Please note that we will not always be able to fulfill the entire order due to supply limitations.

Please e-mail us with any questions.


Buckeye Kosher Korner

For a recently updated list of Kosher symbols approved by Buckeye Kosher click here

Buckeye Kosher works only with approved caterers and commissaries. Please check their website buckeyekosher.org

Follow Buckeye Kosher (@BuckeyeKosher) on Twitter for the latest kashrus updates

www.buckeyekosher.org or info@buckeyekosher.org
Shabbat Table Discussions
To view or download Yeshiva University's latest Shabbat Table Discussions click  here ​​​​​​​
{{shulcloud_footer_left}}
{{shulcloud_footer_right}}
Thu, June 8 2023
19 Sivan 5783
Today's Calendar
Shacharit

: 7:00am
Mincha/Maariv

: 7:05pm
Exec Board Meeting
: 7:30pm
Contemporary Halacha

: 8:30pm
---
Friday Night
Mincha/Maariv

: 7:10pm
Early Candlelighting

: 7:30pm
Shabbat Day
Graduates Kiddush
Shacharit

: 9:00am
Pre-Mincha Shiur

: 8:00pm
Mincha

: 8:30pm
Shabbat Ends

: 9:50pm
Upcoming Programs & Events
---
This week's Torah portion is

Parshat Beha'alotcha
Shabbat Mevarchim
View Calendar
Zmanim
Alot Hashachar
4:18am
Earliest Tallit
5:02am
Netz (Sunrise)
6:03am
Latest Shema
9:46am
Zman Tefillah
11:02am
Chatzot (Midday)
1:31pm
Mincha Gedola
2:08pm
Mincha Ketana
5:52pm
Plag HaMincha
7:25pm
Shkiah (Sunset)
8:59pm
Tzeit Hakochavim
9:48pm
More >>
Thu, June 8 2023 19 Sivan 5783